A Conversation with Parent Leader Kristel England
"Everyone is better off when our kids are better off"
10/31/2022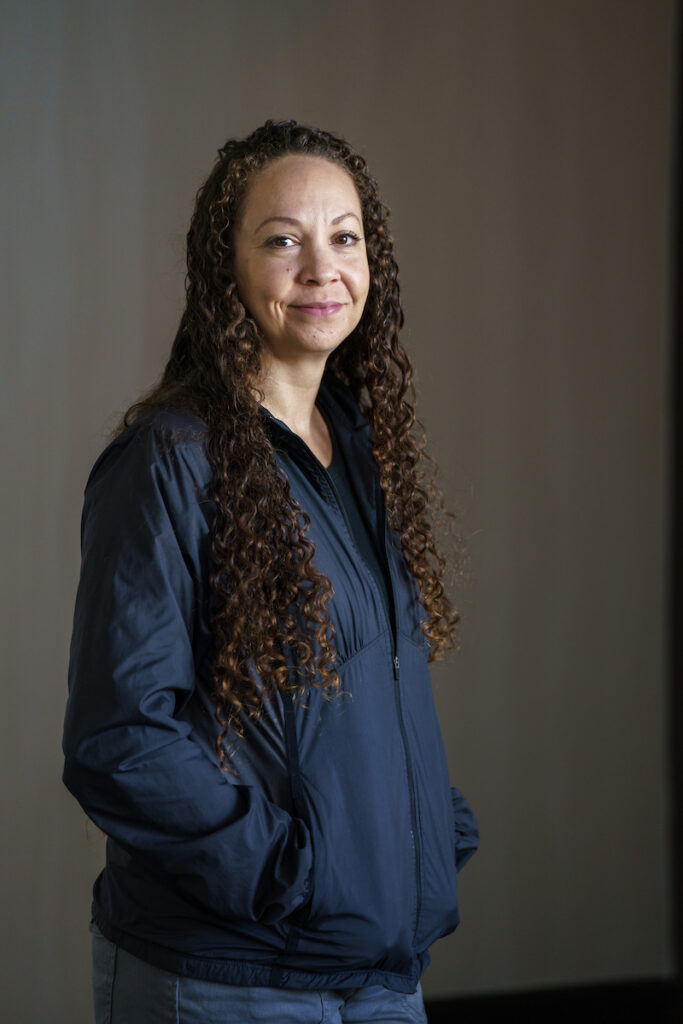 Kristel England is a parent and activist with Parent Voices, CA. She spoke with us about her journey from student and parent to child care activist, the importance of parents showing up for parents, and her vision for the future of child care.
Kristel, thank you for taking the time to chat with us! How did you get started advocating for child care?
In 2010, while I was going to school to get my Bachelor's degree here in California, I lost my child care. The child care subsidy I relied on was vetoed from the budget by the governor at the time.

Without affordable child care to support me while I was in school, I thought my only option was to leave and get a job. But I realized that I was stuck. Even if I put school on hold to get a job, the jobs I was eligible for without a degree didn't pay enough for me to afford child care anyway!
That's how I got involved in Parent Voices, CA, a grassroots organization that activates parents as advocates and leaders to increase funding and improve child care for all families.
Parent Voices sued the state of California to get multiple funding extensions. We organized together to push for a more permanent solution and our next governor reinstated the child care funding. I got my child care back and I was able to earn my Bachelor's degree.

It was amazing to see that regular people like me and the other folks with Parent Voices could come together to pressure the government and win.
Speaking of advocacy, why are this year's midterm elections important for child care?
So many people are struggling to make ends meet between rent, food and all the other soaring prices. And child care is a big source of financial strain, too. Many families are paying huge portions of their income to child care. We also know that many people are spending more and more of their income on housing— that doesn't leave much room for the necessities, not to mention savings.

The pandemic raised awareness around the fact that the child care system isn't working—and that it hasn't been for quite some time. The midterms are an opportunity for all of us to come together and say we're ready for that to change.

Why is it important that the Child Care for Every Family Network takes a racial and gender justice lens to this work?
If you look at who does the work in the child care field, it's primarily women, immigrants, and people of color. Many times they are people whose identities intersect at all three of those points. The average pay for these workers is just $13 per hour and that level of pay for the high skill, high-impact work these folks are doing is just not fair. Keep in mind that these workers are also often leaving their own kids to care for the children of others at a wage that isn't enough anywhere in this country to keep them securely housed and fed.

How does the Network support this work in communities like yours?
The Network is a coalition made up of a huge number of organizations and supports on-the-ground work. That's why we were in New Mexico for the Grassroots Assembly. They have a landmark measure on the ballot there that would guarantee early childhood education and child care funding. It's a lot of work to knock doors and talk to voters and it needs to get done to win.

That's what the Network is doing— helping parents show up for other parents. If the New Mexico ballot measure passes, it doesn't directly affect me directly, since I'm in California. But New Mexico's children will be better off, and this is a good model for other states, so I need to show up.

What is your vision for the future of child care in this country?
First and foremost, children have a safe place to play and learn. We know that parents can't pay more for childcare and that providers can't earn less. As a society, we choose to take care of roads, fire emergencies and other collective necessities together. Why can't we create the same infrastructure for our youngest kids to ensure they are safe, educated, nurtured and cared for? That's really what I see this movement for universal child care is driving towards. We want to raise the wages for providers, decrease or eliminate the costs for parents, and see all children thrive. Everyone is better off when our children are better off.

The Child Care for Every Family Network is powered by the expertise of people who are working in their communities to transform our child care system. Our leader profile series is a chance to learn more about the parents, providers, activists and advocates who are working together to build a new child care system.
Join us in our work for universal, equitable, accessible, high-quality, affordable, and culturally relevant child care across the U.S.: