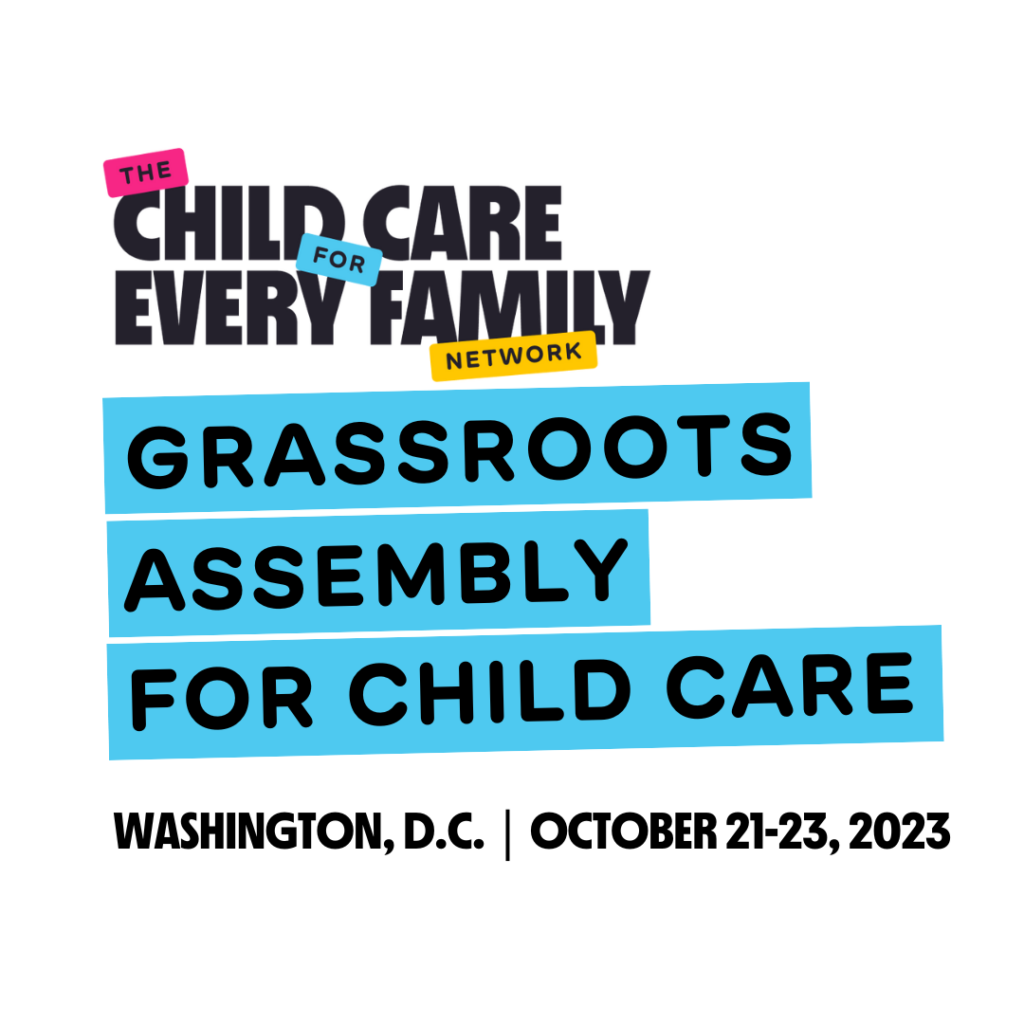 We're thrilled you'll be joining us for our annual convening of families, child care providers, organizers, and advocates! Together we will learn, network, and take action to advance our agenda to create a universal child care system rooted in racial and gender justice.
---
---
Hotel Accommodations
We have room accommodations reserved for attendees who are not local to the area. Head to the front desk to check in when you arrive at the hotel. All rooms are single occupancy, so you will not be sharing a room with another participant. Check in is at 4:00pm, but if you arrive early they will give you a room if one is ready. You will not need to provide a credit card for incidentals. All charges will go to the master bill and anything you wish to charge to your room will need to be paid in cash. If there are room charges on the final bill, we will invoice you for those charges.
Check in time: October 21, 2023 at 4pm
Check out time: October 23, 2023 at 12pm
Note that programming will conclude on October 23rd after check-out time (1:00pm). Please plan ahead and make sure to vacate your room accordingly. Feel free to check your bags at the front desk or ask The Network team to help you with luggage storage.
Participant Agenda
Please find the participant agenda here. Programming will begin October 21st at 6pm and conclude on October 23rd at 1pm.
What to Bring
Weather in D.C. will range from low 48 degrees Fahrenheit to high 70 degrees Fahrenheit with a chance of rain. It is also likely that the meeting rooms will be cold. Dress casual – wear what makes you feel warm and comfortable!
Travel & Ground Transportation
If your flight was booked by The Network, you should have received an email confirmation with your flight information via email. If you did not, please contact regina@childcareforeveryfamily.org as soon as possible to work out your travel arrangements.
If you have not been contacted by Regina, or your organization is responsible for booking your flight. You should plan to arrive on October 21st and depart on October 23rd after 1pm.
If you are an attendee who qualifies for expenses to be covered by The Network (someone that is not staff of a national organization) and you have ground transportation expenses, please make sure to save all of your receipts and submit for reimbursement following the instructions listed in the "reimbursement" section of this memo. We encourage you to take the most economical travel option available.
Meal Schedule
The Network will provide the following meals as part of the event:
| | | |
| --- | --- | --- |
| Saturday, October 21 | Sunday, October 22 | Monday, October 23 |
| | Breakfast BuffetTime: 9am-10amLocation: Hilton Ballroom Foyer | Breakfast BuffetTime: 8:30am -9:30amLocation: Hilton Ballroom Foyer |
| | Lunch BuffetTime: 12:30 pm – 1:30pmLocation: Hilton Ballroom Foyer | Lunch with to-go optionsTime: 1:00pm-2:00pmLocation: Hilton Ballroom Foyer |
| Welcome Buffet DinnerTime: 6pm-7pmLocation: Hilton Ballroom Foyer | Dinner BuffetTime: 6pm – 8pmLocation: Hilton Ballroom Foyer | Dinner on your own |
Meal Expenses
Most meals will be provided for you during our time together (please refer to the section above for the list of scheduled meals). You are responsible for your own dinner on the evening of October 23rd and any other meals not scheduled into the event's programming.
If you are a member whom The Network is covering expenses for, you must purchase your meals in accordance to the per diem allowances (including tax & 20% tip) up to $25 breakfast, $25 lunch, $40 dinner, and an additional $10 for snacks/incidentals. This includes alcoholic beverages. You may submit for reimbursement for this expense if you qualify for one. Please note that meal reimbursements will only be made for meals that are not included in the event's programming.
Child Care
We will be providing free on-site child care for this event. If you have child care needs at home, you are able to request a $75/day child care stipend from The Network, if you qualify for one. If you requested a child care stipend, we will reach out to you with a list of documentation we need for you to complete. You will not be able to receive the stipend until after the event.
Reimbursements
If you are an attendee whose travel expenses will be covered by The Network and you purchased your own flight, you can submit for reimbursement following these steps:
1. Individuals or entities seeking reimbursement may provide a completed Expense Reimbursement Form (make a copy) or an invoice with the following details included:
Date expense was incurred
Your full name
Amount of the expense
Description of the expense
2. Provide all receipts for expenses. Receipts should confirm the date, vendor, amount, description, and method of payment
3. If this is your first time being reimbursed by The Network, complete an EFT & W-9 form
4. Please email regina@childcareforeveryfamily.org and CC erica@childcareforeveryfamily.org & Andrea@childcareforeveryfamily.org with all completed documents as well as your receipts attached.
Please note that reimbursements can take up to a month. All expenses must be submitted for reimbursement within 60 days of the receipt date or reimbursement is not guaranteed.
COVID Protocol
While restrictions have eased up, COVID is still a reality and we continue to do everything we can to keep you all safe during your travels and during our time together. We will have a limited number of COVID tests onsight for those who are not feeling well, so that they can test if they would like. We will also have masks on hand, however neither are required. We highly encourage you to take a COVID test before attending the event and stay home if you are positive.
---
Questions or requests? Email Regina at regina@childcareforeveryfamily.org.
Join us in our work for universal, equitable, accessible, high-quality, affordable, and culturally relevant child care across the U.S.: